Hampton Court Flower Show 2008
The Sadolin Four Seasons Garden
The Sadolin Four Seasons Garden is about creating a space that looks great all year round. It celebrates a professional couple's passion for entertaining outdoors, while also following a more eco-conscious approach to gardening.
It plays on the timeless appeal of wood, but gives it a contemporary twist, using a palette of Sadolin's pastel and natural wood shades to decorate a sheltered sunken deck with built-in seating, a raised deck reached by a spiral staircase and topped with a canvas sail-shade, and a stylish horizontal slatted trellis fence.
The planting has been chosen for year-round interest and includes trees such as Prunus Serrula, which look wonderful in low winter sun, and Dogwood, which provide colourful winter stems and bright autumn foliage. There are also perennials and shrubs in silver, blue, pink and white for an attractive summer display.
Inspired by my recent trip to the mountains of Crete and the trend towards home-grown produce, herbs play an important role in the garden, which features a thin ribbon of fragrant thyme snaking around the sunken deck and large planters of kitchen herbs.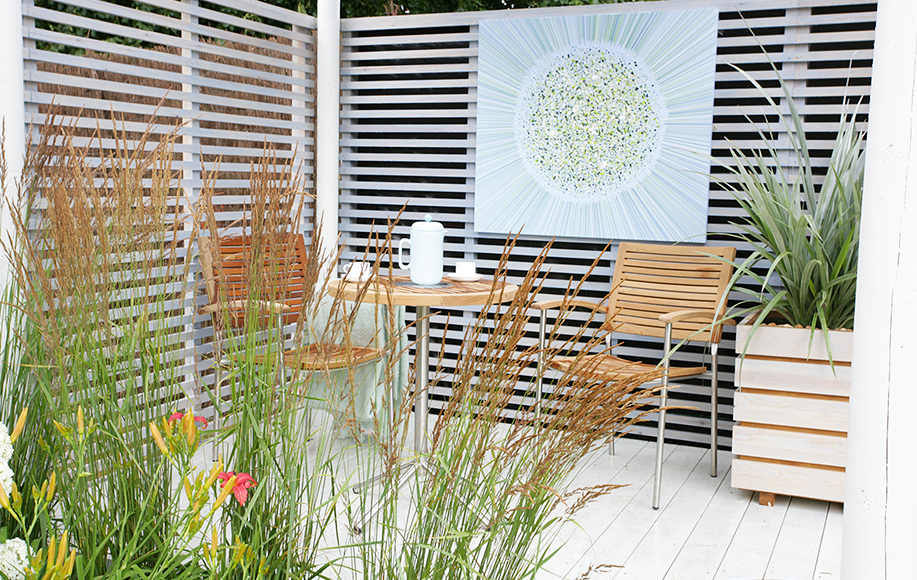 The building of a show garden